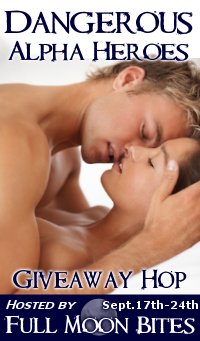 Full Moon Bites is hosting their very first giveaway hop!
This hop is to celebrate all of those sexy and dangerous Alpha heroes in books who make us pant and know how to protect their lady love—even if that lady love can protect herself quite well without him! ;)

No matter what time period they are from—or even if they are human.
Let us know some of your favorite alpha heroes who are are they and
why do you love 'em? We want to know!
Just click on the event button or
HERE
to see the other blogs that
are participating in this hop.
~~~~~~~~~~~~~~~~~~~~

One of an army of human soldiers injected with alien DNA, Michael is a legend within this new race, split between good and evil. Untamable, he has walked on the dark side and returned to the light. Feared and misunderstood, he leaves everything behind, including the one woman destined to be his mate.

HE IS HER ENEMY…AND HER DESTINY…

Fate leads Michael back to Cassandra Powell, for she holds the key to defending his comrades. With their loyalties divided between duty and the people they love, only together can Cassandra and Michael overcome insurmountable odds to save humanity from the
wrath of a madman.

But no ordinary woman can control a creature such as Michael, and only one thing is clear—the world will never be the same…
a Rafflecopter giveaway