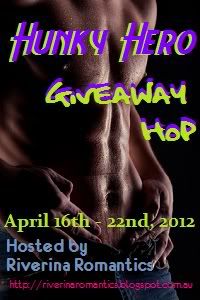 Hunky Hero Giveaway Hop
Hosted by Riverina Romantics
Blog hop runs from 12:01 AM April 16th through to 11:59 PM April 22nd, 2012.
This is our first EVER Giveaway Hop....well hop of any sort to be exact, so we are a bit excited with equal measures of nervousness.
So what is the 'Hunky Hero Giveaway Hop' all about??? I thought it would be great for all of us to do a giveaway of the book with our favourite Hunky hero, not only to share the greatness with our followers, but to give everyone some great book recommendations.
So here are the instructions:
All authors and book bloggers are welcome to sign up, however we do ask that you are followers of Riverina Romantics either by GFC or Facebook. We also ask that the giveaway is book related, either ebooks, paperbacks or even hunky hero swag. If you link up to this giveaway hop you are responsible for providing the prize(s), determining the winner(s) in a fair manner and for posting them to the winner(s).
Make sure you grab the hop badge via the code above and add it to the side panel of your blog.
In the linky below please indicate if your giveaway is international, US/Canada or US only so that it is easier for people to go to the blogs that are relevant for their location.
Please only allow one mandatory entry for your giveaway and no more than 4 other ways to obtain more entries - No daily entries allowed (i.e. Tweet about this giveaway daily).
Include the linky list on your giveaway post (which will be emailed to you a few days before the hop starts or a link to this signup page.
NO MORE ENTRIES AFTER APRIL 20TH, 2012.
SIGN UP BELOW:
Enter your blog name along with whether your giveaway is US, US/CAN or INT.
Also add your email address.